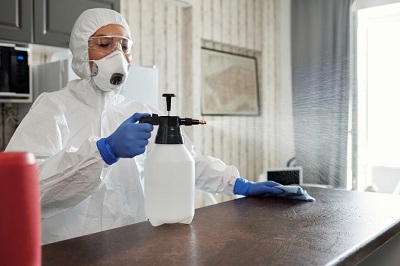 Keeping Vacation Rentals Clean And Up To COVID Standards
The old standard of clean is obsolete. With COVID at the forefront of everyone's mind, it's time to step up your methods for keeping your vacation rentals clean.
When establishing your cleaning routine for your vacation rental, start with the advice of the World Health Organization (WHO) and the Centers for Disease Control (CDC). Keep these tips in mind when creating your new cleaning vacation rental cleaning protocols.
Provide Sanitation
Take a proactive approach by providing your guests with sanitizing products. You could mount a sanitizer dispenser on the outside of your rental home by the front door. Then encourage guests to use it before entering the home. This will reduce the number of germs that enter.
You could also provide soap and hand sanitizer in the rental. Encourage guests to wash their hands often.
Focus on High Touch Surfaces
Start the cleaning process with high-touch surfaces like doorknobs, sink fixtures, light switches, TV remotes, and handrails. For the most effective clean, you should use a two-step approach. Start with hot soapy water to clean these surfaces.
Then use a disinfectant to kill the germs. Don't forget the cabinet pulls and knobs, dresser knobs or pulls, hangers, luggage racks, window blind pulls or handles, temperature controls, and electronics buttons.
The second step should be to clean low-touch surfaces with hot soapy water. This will reduce the dirt and germs that happen to settle on these surfaces after getting into the air.
Open all of the windows while you're cleaning to ventilate the property. This will help circulate the air and reduce possible airborne germs and viruses.
Pay Attention to Linens
Always wear gloves when cleaning your rental. You should especially wear them when gathering the linens for washing. Include all sheets and towels and wash them on the hottest water setting. Avoid touching your face or cleaned surfaces while handling dirty linens.
Wash everything, even if it looks like a guest didn't use it. It's possible that a guest rifled through a linen closet and touched throw blankets while looking for something.
Focus on the Kitchen
Clean every utensil and item in the kitchen. You don't know what guests have touched or used, which means you need to clean everything. Having a checklist can help ensure you don't miss something. It can also help to have dishwasher-safe items; you can cycle everything through a cleaning while working on the rest of the home.
Check the dishwasher for a sanitize setting. It will use hot water that will kill 99.9% of the bacteria.
Hire a Cleaning Company
As you can see, cleaning your rental property was no small task. Adding on the additional sanitizing and disinfecting tasks only adds to the process. While you do the cleaning yourself, it can be more economical to hire a professional cleaning company.
Working with a property manager can also make the cleaning process easier. Leverage your property manager's professional relationships with professional cleaning services. Then let your manager schedule the necessary cleanings and the day-to-day tasks of keeping your vacation rentals clean.
Establish Cleaning Protocols for Your Vacation Rental
If you haven't overhauled your vacation rental cleaning procedures, then you're overdue. People are beginning to venture out beyond the confines of their homes.
This is creating a rise in the demand for private vacation rental homes. It's time you capitalize on this trend by showcasing to potential guests that you take COVID and their safety seriously with strict cleaning protocols.
Contact our office and let our team of experienced property managers help you establish a cleaning routine for sanitizing your vacation rental.